Food has a potent impact on our remembered experiences. Certain smells, tastes and visuals can take us back in an instant to events we thought we'd forgotten. The jelly mould your mother used for blancmange, when you came home from hospital after having your tonsils out. The gherkin on the side of a dish of pate that reminds you of a friend of a friend who came on to you in France, oh – eeek – 35 years ago!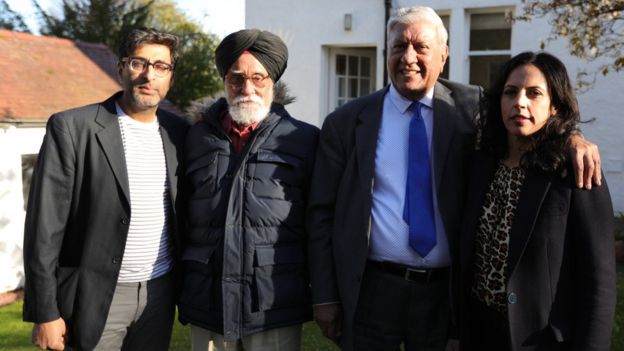 Right now we're remembering the partition of India and Pakistan, in 1947; there was a good account of it on BBC2 Scotland last night, hosted by Sanjeev Singh Kohli and Aasmah Mir, a Sikh and Muslim respectively, whose families came and settled in Scotland 70 years ago, after fleeing the riots. I had recently read a great book by Hardeep Singh Kohli, Sanjeev's older brother: 'Indian Takeaway: One man's attempt to cook his way home.' In this he explained how he had travelled to India a number of times to visit relatives; but never been a 'tourist' in the way that many of his Scottish friends, without Indian connections, had been. They came home raving about India, its spirituality and beauty and he thought he should try to see it with different eyes. Essentially, he wanted to figure out his personal identity: was he more Scottish than Indian, or the other way round?
Being a big food lover, and coming from a strong Sikh food tradition, he hit on a novel way of exploring his roots: he would travel round India, cooking Scottish food for Indians! This is actually quite hilarious – you know from the start that he's onto a loser – lack of equipment and ingredients being only the start of it. One of the running themes from a 1990s sitcom features an aspirational Indian family living in the UK, trying to cultivate a taste for 'Bland'. So Hardeep's attempts to 'sell' Scottish staples like Shepherd's Pie and fish and chips to his Indian companions is full of pathos and self-deprecation. He's a journalist, and writes like a stand-up comic; so there's a steady stream of things to smile and laugh about.
With a wonderfully truthful sense of childhood influences, he recounts the evolution of his mother's Glenryck Mackerel (tinned of course) Curry on white rice … a creative cook's attempt to make the most of cheaply available foods to feed her ever-hungry family. Yes it sounds dire but he assures us it was devoured with delight; and he counterposes it with a poignant account of eating fish curry in a tsunami-ravaged beach café in Mamallapuram.
Hardeep Singh Kohli honours both his parents in their strenuous, determined efforts to survive and prosper as refugees in a strange land; it is especially lovely to see his mother's sterling efforts so lovingly catalogued. This a great read; do try and get hold of it.